Do you think your smarthome technology is spying on you?
I recently visited a big box retailer to buy batteries and noticed an area of entry-level, products being marketed as smarthome products.
On each product was a little card instructing customers to "Ask Echo to Turn on the light" - for example. I played with it for a while and then bought my batteries.
On the way out I asked the cashier if many people were buying the products I had been experimenting with in store?
"Not many" was the reply. I went on to ask if she had it in her home?
"Nope. They spy on us enough!"
Wow.
Granted it was 1 person and 1 opinion but it got me to thinking about why everybody doesn't have some kind of automation in their home.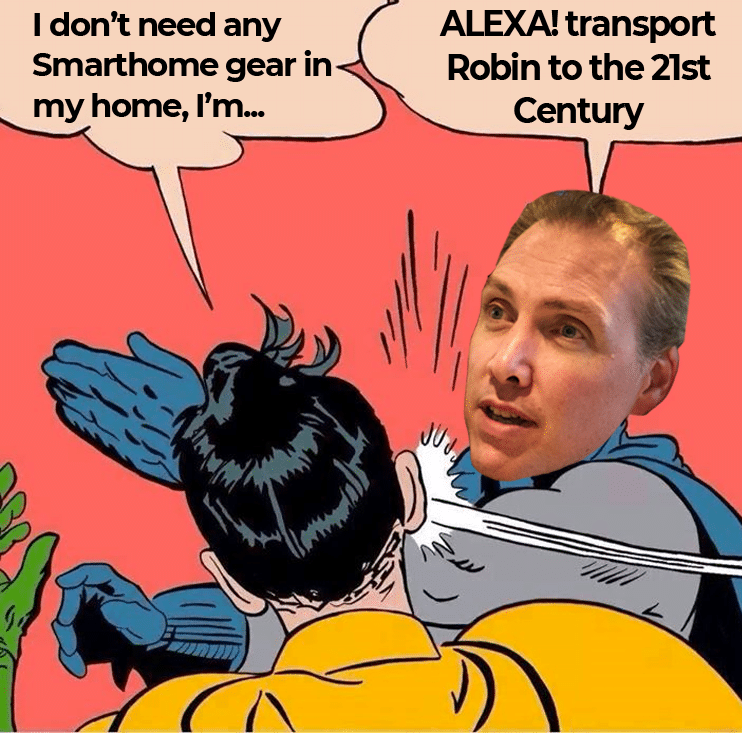 Beyond not understanding, misunderstanding or simply no desire - this fear of being spied on is another consideration.
Its true that services like Amazon Echo and Alexa services for voice assistant control do record the information you speak to them, but all of these services have a way for you to access and manage if and how that data is stored or not.
But that requires an understanding of the technology or a willingness to understand it at least.
Trust Matters
In sales nothing matters more than trust - people wont buy if they don't trust the salesperson or organisation selling them.
If the people meant to be selling a smarthome product dont trust it, the chance of success for that range is impacted.
Selling smarthome solutions is more involved than building a display area and putting some boxes on the shelves, a lesson these big box retailers like Officeworks and Bunnings will no doubt find out soon enough.
This smarthome equipment is intended to enhance your home and your lifestyle. This is the guideline I always use to answer the question of why:
Enhance your lifestyle
Practical Outcomes
Security
Safety
Savings (energy)
But, sometimes the easiest way to control your lights is to use a light switch on the wall - not install a WiFi enabled 'thing'; somehow connect it to your WiFi at home; troubleshoot it when the WiFi keeps dropping out or is too far away to get a good signal to sync; or spend hours trying to figure out how the new Apps and their interface allow you to turn on a light.
The light switch on the wall is something you can trust to operate the light without any of that pain.
Just one top reason why the SAL PIXIE range of smarthome products can be trusted.
The SAL PIXIE smart dimmers and switches fit right into the existing wall plates and always provide homeowners the ability to control their lights power directly at the wall - as well as from an App and with automated schedules.
A trusted method for operating lighting. A switch or dimmer on the wall
Invariably these attempts to sell technology without belief or ttrust mean the gear ends up in bargain basement clearance bins at the checkout at a fraction of the original prices or returned to the supplier for them to deal with - and marked as a failure by the retailer and consumers.
That's bad news for all of us in the home automation world. Its not building trust, credibility and beleif.
Sentiment matters just as much as trust.
The System With the Most Choices is Always the Best Option.
This statement is true for so many different segments and smarthomes are no different.
Of the system being marketed as smarthome - and no, not all of them are really smart - a large majority of them need WiFi and need an internet connection to operate beyond a very basic level.
And that's what I love about the SAL PIXIE solution.
Install the hardware
Download the app
Configure and control
There is NO REQUIREMENT for a hub or WiFi or an internet connection for SAL PIXIE to operate out-of-the-box.
For those that are security conscious, no internet connection means no spying.
You can trust PIXIE to operate without any additional equipment, not to spy on you or share your information anywhere and you don't need to know anything about Wifi, networking etc.
And its full featured in control and capability:
Individual device control from the wall and the App
Group control from the wall and the App
Scene control from the wall and the App
24/7 day schedules on all devices, groups and scenes from the App
LED control from the wall and the App
Of course, any solution using voice assistants currently needs to be internet connected and then, that trust word becomes important again.
With SAL PIXIE, you can choose to buy a PIXIE gateway to access out of home connectivity and voice assistant control.
This comes with the added bonus of the SAL PIXIE PLUS App and services being cloud hosted in Australia and under the direct control of SAL National.
An Australian company, operating in Australia and managing the hardware and software for the smarthome products in Australia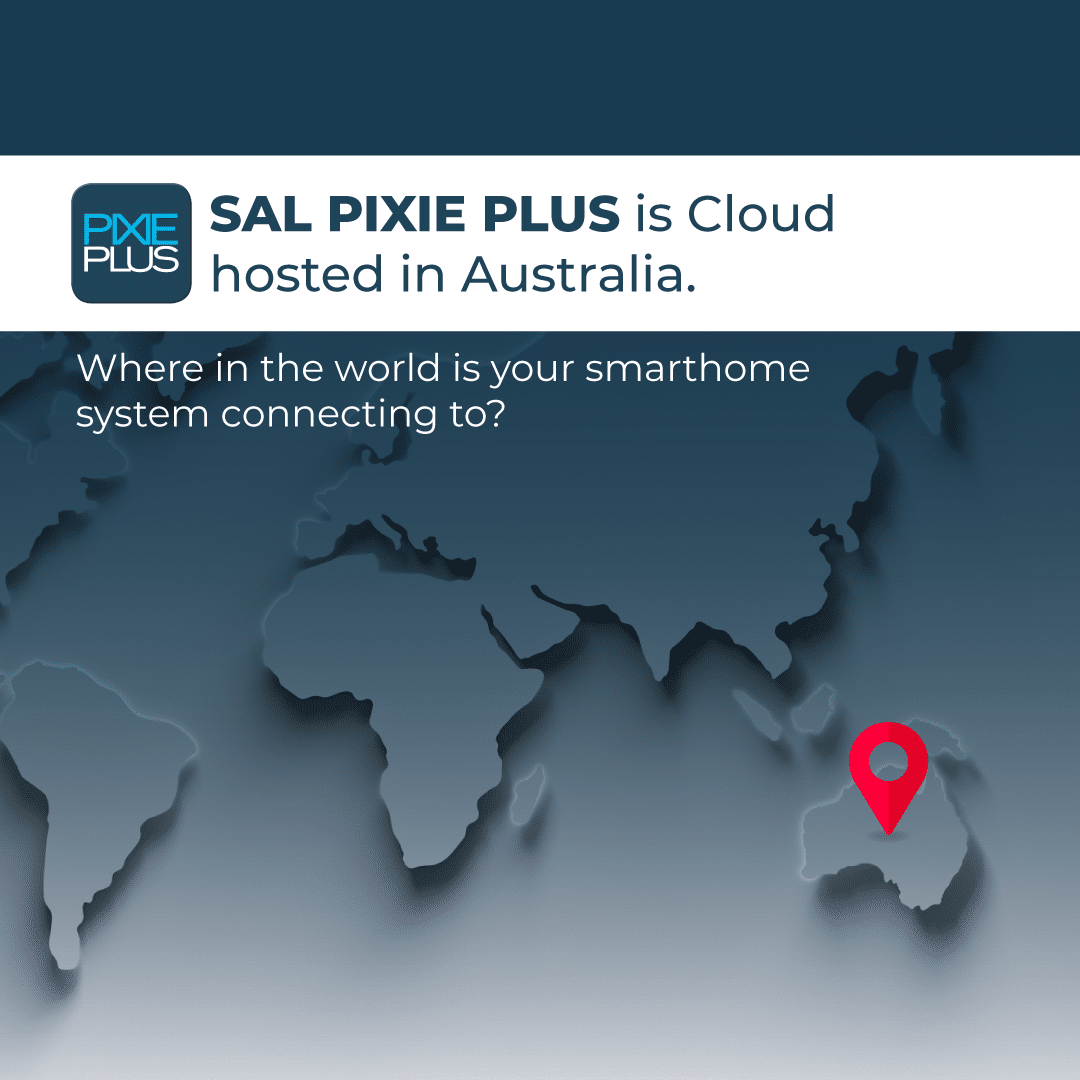 Big Brands Bring Trust. Don't they?
Any voice assistant will be communicating some data from your smarthome system to a service from one of the providers - Amazon, Google , Apple.
Some trusted brands in that mix, but what about your smarthome App?
The App you actually use to setup and provide primary control of your smarthome devices?
Who makes the Smarthome App?
Is it maintained and under the control of the same people who sold you the hardware? (This matters if you really want to get tech support - if they don't make it how can they support it if you have a problem)
Where is it (the Smarthome App) hosted?

As in... in which country is your DATA about YOUR HOME being sent to?

Does the smarthome gear HAVE to be connected to WiFi and the internet to operate?
What happens when the internet stops working?
The best way to be sure is to ask the people selling you the solution.
And ask the questions listed above.
If you don't get a point blank answer to each of them, the people you are asking don't know the answers or don't want you to know.
If you feel like you can't trust the answers then you can't trust the system.
Don't use it.
Give PIXIE a try instead.